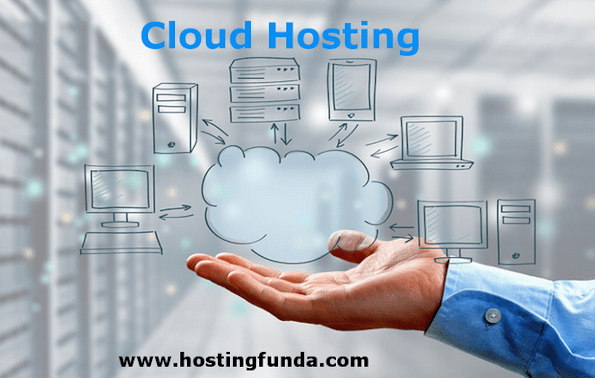 Cloud Hosting services offer web hosting on virtual web servers which pull out their computing resources from extensive underlying network of physical servers. Generally, clients tap their web based service as much as they need, depending on the requirements.

This results in cost saving as they have to pay only for that what they want to use, and as they can access this ay any time, there is no need to pay for the additional capacity.
Cloud Hosting is that when an organization outsources cloud storage to a web based service provider. Cloud provider oversees maintenance, security, infrastructure and setup, while allowing clients to customize the applications and hardware and scale servers online.
Benefits of cloud hosting include setup, which is being handled by service provider. Cloud is available to the customers over a network. Because users can scale as per requirement, they are only being charges for services as they utilize and no need to pay for unused capacity. This payment system makes cloud web hosting an inexpensive method of storage.
When negotiating SLA i.e service-level-agreement, clients having cloud hosting should consider some of the important aspects before choosing cost : RTO i.e Recovery Time Objective, RPO i.e Recovery Point Objective, Security and HA i.e Hight Availability.
Hosting services which are being provided to the customers via multiple connected web servers comprise a cloud as it is opposed for being provided by a virtual server or a single server. While lack of control and security of data are frequently cited concerns with cloud based hosting, there are number of possible benefits with cloud hosting which includes cost efficiency, seamless scalability, accessibility and increased reliability.
Cloud hosting is also being referred to as cluster server hosting, cloud server hosting or on-demand hosting.
Features and Benefits of Cloud Hosting
Reliability: Being hosted rather than on a single instances of physical web server, hosting is being delivered on a single virtual partition which draws resources like disk space, network of physical servers. If one server get offline then it will not effect on availability, as virtual servers continue to pull out the resources from remaining network of servers.
Physical Security: Underlying physical web servers are housed in data centres and benefits from security measures are to implement to prevent people from disrupting or accessing them on-site.
Scalability: Resources are available in the real time on demand and is not limited to the physical capacity/constraints of a single server. If client's website demands extra resources from hosting platform due to hike in visitor traffic or implementation of some new functionalities, resources are being accesses seamlessly.
Cost: Client pays only for what they use. Resources are available for spike in demand by client but there is no wasted capacity which remain unused when demand get slower.
Load Balancing: Load balancing is that software which is based and can be scalable instantly to respond the changing demands.