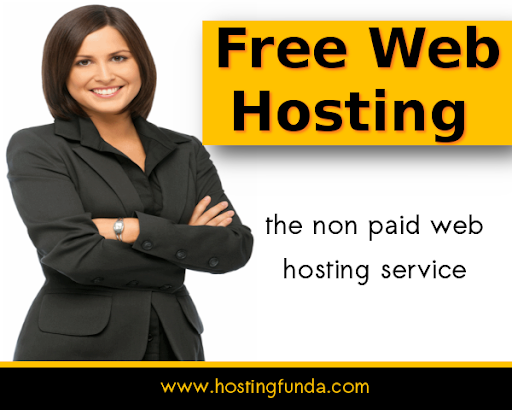 Free web hosting the non paid web hosting service
Free Website Hosting
Free website hosting as it is clear from the name itself that it is a free non-paid web hosting service. The web hosts provides subdomains to anyone who want to make website and there are many such web hosts like Blogger and WordPress. When we make our website with the help of these free website hosting services, your website gets such name like mysite.blogspot.com and mysite.wordpress.com.
If we want to get a website with a domain name that doesn't include any external site's name, you must buy domain and then get web hosting which is usually a paid service. There are many web hosting companies that provide free web hosting with some or the other products/services that you buy from them.
Main difference between Free and Paid Web Hosting
1)  Advertisements on our website are controlled by the web hosting company that provides us with the free web hosting.
2)  Customer support is completely missing for free website hosting.
3)  Its Low bandwidth and lesser data transfer capacity makes free website hosting weak to greater downtime.
Top 10 free hosting sites
1) Biz.nf (PHP, Joomla, Free .co.nf domain, MySQL, WordPress,  No ads)
2) Free Hosting EU (Blog / Site builder, Free .eu.pn domain, No ads)
3) Wix.com (Easy Website builder: mobile, blogs, html5, Flash etc.)
4) AwardSpace.net (PHP, No Ads, MySQL, Email Sending,  Free subdomain)
5) Biz.ly (Website & Blog builder, Photo album, Free .biz.ly domain)
6) ByetHost.com (PHP, SMF, Wiki, MySQL, PHPbb, Free subdomain)
7) Host-ed.net (PHP, MySQL, 1-click Scripts, No Ads, Free subdomain)
8) x10Hosting.com (Support cPanel, PHP, FTP, No ads, Free subdomain)
9) Yola.com (Visual website builder, add videos, photos, shopping cart)
10)  Webs.com (Easy site builder, blog, forms, polls, Free subdomain)
Advantages
The main advantage of such hosting service is their cost efficiency. They are entirely free of cost and do not require any paid subscription. The exact plan and policy might be varying from one hosting service provider to another.
The website owner normally gets the free space on the server, free sub-domain name for accessing website and global reach over the World Wide Web. But actually this advantage is covered by many other demerits of free hosting services which do not make it apt for the commercial purposes.
Disadvantages
1) Advertisements
2) No Main Domain
3) Customer Support
4) Limited Bandwidth and Speed.