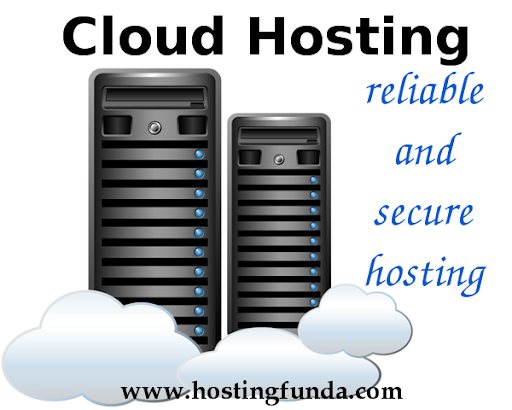 Cloud hosting the reliable and secure hosting
Cloud Hosting          
Cloud computing is simply a method of delivering technology to the consumer. While in the earlier period software had to be shipped on a CD-ROM, and updates had to be downloaded after that to keep the software protected and bug-free, cloud computing allows vendors to send software and services over the internet without the need for traditional media or installation.
A related idea is called SAAS 'Software As A Service'. When the internet, as a network, became capable enough of transmitting huge amounts of data in a minimum period of time, it became feasible to offer not just simple web pages, but whole services online. Basically Cloud computing means to utilize internet servers for processing and storing data, while the client system is using the data.
Cloud hosting services provide hosting for websites on virtual servers which pull their computing resource from general underlying networks of physical web servers. It usually follows the utility model of computing in that it is available as a service rather than a product and therefore it is comparable with traditional utilities like gas and electricity. The client can tap into their service as much as they want, depending on the need of their website and they will only pay for what they use.
Features Of Cloud Hosting
1)Reliability: The website is hosted on a virtual partition which represents its resources, like disk space, from an extensive network of underlying physical servers, rather than being hosted on one single instance of a physical server. If a server goes offline, it reduces the level of resource available to the cloud a little but will have no consequence on the availability of the website whose virtual server will continue to pull resource from the remaining network of servers.
2)Physical Security: Within data centers the underlying physical servers are still housed and so benefit from the security measures that those services implemented to prevent people disrupting or accessing them on-site.
3)Scalability and Flexibility: Resources are available in real time on demand and not are restricted to the physical constraints/capacity of one server. If a client's site is demanding extra resource from its hosting platform due to a spike in visitor traffic or the implementation of latest functionality, the resource is accessed flawlessly.
4)Utility style costing: Client are only paying for what they actually use. The resources are available for spikes in demand but there is no wasted capacity remaining vacant when demand is lower.
5)Responsive load balancing: Load balancing is basically software based and therefore can be immediately scalable to respond to changing demands
Advantages
1)Cost Efficient
Cloud computing is the most cost efficient method to maintain, upgrade and use. Traditional desktop software costs companies a lot in terms of finance. Adding up the licensing fees for several users can prove to be very costly for the establishment concerned. The cloud is available at much inexpensive rates.
2)Almost Unlimited Storage
Storing information or data in the cloud gives us almost unlimited storage capacity. So we no more need to worry about running out of storage space or boost our current storage space availability.
3)Quick Deployment
Quick deployment is the main advantage given by the cloud hosting. Once we choose for this method of functioning, our entire system can be fully functional in a matter of a few minutes.
Disadvantage
1)Downtime
As Cloud Service Providers provides a number of clients each and everyday, they can also get overwhelmed or face any technical outage. Business processes can get stoped or suspended temporarily if the service provider experiences downtime.
If our internet connection is offline, we will not be able to access any of our applications, server or data from internet-powered Cloud.
2) Security Risks
Though Cloud service providers tend to execute the best security standards and industry certifications, storing data and important files on external service providers always opens up threats.