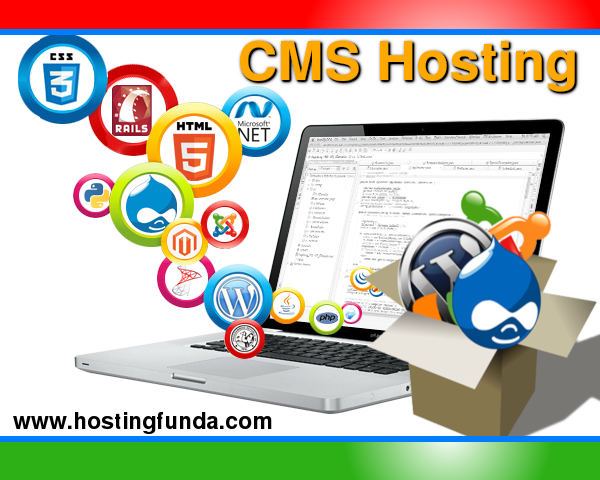 CMS hosting: content management system
CMS Hosting
Content Management System, also known as CMS, is a web hosting system that allows us to define and also to set permissions for multiple users at different levels to handle and deal with the different sections of content in your website.
The content can lie under different kinds of classifications like events, articles, blogs, press releases and many more. After a fine line is drawn, the Content Management System lies in two categories called the Traditional or Open Source Content Management Systems and the Hosted Content Management Systems.
Some of the regular self hosted Content Management Systems are listed below:
WordPress: WordPress was firstly started for blogging purpose, but after a long time it has gained success as a Content Management System as well.
Drupal: Drupal is a very flexible and popular Content Management System available in the market. Though it is simple to use, it would be better if we will handle it with a prior knowledge of coding.
Joomla: Joomla is yet another CMS which is mobile ready and user friendly. Today Joomla have more than 35 million downloads. Joomla offers a large number of extensions to add additional features.
Alfresco: Alfresco is a strong Content Management System at enterprise level that features well organized management of documents and web.
B2Evolution: b2Evolution is an open source CMS featuring anti spam filters, photo albums, online books, pages, multiple blogs and manuals. The CMS also supports comments, skins, multiple categories and sub-categories.
Some of the hosted CMSs are listed below:
Vae: Vae, which is a basically a verb, is an excellent CMS which features everything from e-commerce solutions to email marketing platforms. CMSs Vae allows us to add standard HTML and CSS files to the Content Management System.
Light CMS: The Light CMS is a simple Content Management System that provides a greater flexibility with respect to design. The Light CMS have 80 predefined templates that are fully integrated. This CMS features Calendars, Podcasts, RSS Feeds, Blogs and Events.
Webvanta: Webvanta is a different CMS that offers a set of themes for you to select before you actually start with the actual working of the content.
Squarespace: Squarespace is another hosted Content Management System which is without an admin panel. It provides a solution for websites that accommodate content, blogs and portfolios.
Best cms hosting sites are.
1) Shopify
2) LightCMS
3) Highwire Commerce
4) Squarespace
5) HiFi
6) Business Catalyst
7) Webvanta
8) Webpop
9) Edicy
10) Concrete5
11) Magento Go
12) SolidShops