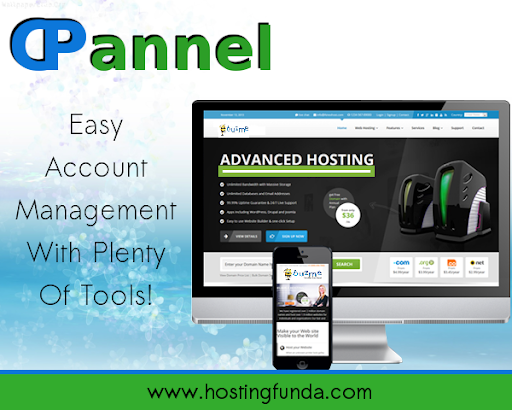 cPanel Hosting – Easy Account Management With Plenty Of Tools!
Cpanel Hosting
Cpanel is a web based control panel that allows you to manage your domain through a web interface. The main idea is to transfer as much of the control and responsibility of managing your web site to you. You hava the ability to manage all aspects like FTP, CGI script, mails, files and also web site statistics.
Cpanel Themes
Themes are the visual representation of the CPanel user interface. In other words you can say, what CPanel looks like. CPanel has one standard themes.
CPanel X : cPanel X has a front page that displays all of the central functions with account information on one page. This theme use more graphics, it is slower to load.
Your hosting provider may allows you to change between various themes. The documentation has been written using the CPanel X theme as a reference.
How to use CPanel
CPanel provides a vast range of functionality to manage all aspects of your websites.
Logging on :- You need to log on in order to to use CPanel to manage your websites.
To log on enter the address of your CPanel in your web browser. Format is http://www.yourdomainname.com : 2082or2083, then enter your user name and password and click ok.
Logging out :- After you have finished using CPanel, you should log out. If you do not log out, the server automatically close your session. To log out click on the log out button.
Mail : The mail area allows you to manage all aspects of your email, managing mailing lists, adding new accounts.
Email options can be used in the conjunction with each other. For eg. You can set up an auto responder to email an "Out Of Office" message or a spam filter to reject all email with credit in the subject line. This makes the email a powerful communication medium.
Change Password: Your domain password is the password that you use to log on to your CPanel. You should change this occasionally to maximize your site's security.
Addon Domains: An addon domain name that points to a subdirectory within your account. Addon domains must be registered domain names that you own and configured to point to your web site's servers.FTP Manager: FTP manager deals with all the tools relating to setting up and managing FTP accounts and FTP session. FTP is a method by which you can transfer files between computer, using the internet. FTP allows external users to modify your website. External user can upload, delete and download files.