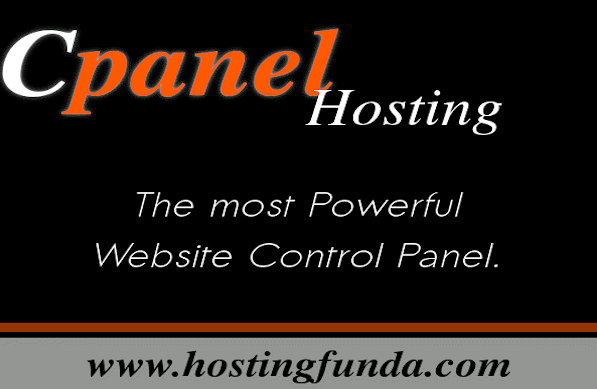 cPanel web hosting is a web based hosting which is provided by many hosting web providers to the website owners and allowing them to manage websites from web based interfaces. Cpanel givens a graphical interface to users using which user can control portion of Unix server. 
Tools provided in cpanel are designed to simplify controlling and running of a website. This uses a tiered type structure which allows different values of access. End users and administration can control different aspects of server and website directly through web browsers. Cpanel generally is accessed using https on port no. 2083 or by adding "cpanel" at the end of hostname. 
Depending on hosting provider cPanel will have some sort of dedicated packages and installers to CMS like WordPress. A user can use CPanel after installing WordPress to manage features offered by WordPress hosting plan. Some of the popular features are like backups, mail accounts, domain names and manage databases. All these features make extremely easy for user to manage hosting with no or little technical knowledge of web hosting without breaking anything. 
CPanel is great and have customized control panel, which successfully stand at time of testing and has a community behind it. This community helps to overcome difficulties or problems which arise during time of usage. Widespread use and popularity of cPanel is due to the fact that this has straightforward interface which can be comprehended easily by user who uses for the very first time. But the enterprise level features make very much suitable for use of professionals as well.
Accessing cPanel
Cpanel access process is very simple, just install cpanel by means of web browser. Address of panel will be given by hosting provider. You should not worry by:2082 in URL as it is port number to which cpanel listens by the default. So however, cpanel should be accessed via secure HTTPS connection, or you might be facing risk of the security breach.
cPanel interface
Interface of cPanel has been refined over years, again and again, and interface itself can be customized by  web hosting company which offers hosting services, but generally they have main sections: Logs, Security, Domains, Database, Files, Mail and Preferences. CPanel is very easy-to-use and has polished interface.
Most Popular Features of cPanel Hosting
Domain Management: Customers who use server need to create sub-domains, park domains or to add domains to their hosting account. cPanel makes all these features available to the customers.
File Management: With CMS platforms, email accounts, subdomains, multiple domains, and users who access server via FTP can quickly become overwhelmed by trying to manage server. cPanel makes this task very easy with File Management tools.
Security: Securing a  server and a website can be a hassle for most seasoned professional. cPanel helps users by providing tools which are needed to help in reducing possibilities of attacks while giving website owner secures access to the server.
Email: Business communication is very much important. Managing business specific email addresses, multiple email users, creating filters, blocking spam can be very hassle task. cPanel helps to manage all these features in easy manner by using the tools which enables website owner to control all business emails without any hassle.