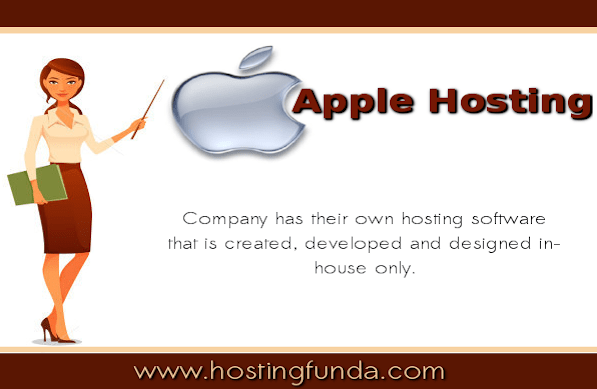 Mac OS X Server combines latest standard based and open source Internet based services in complete, it is easy to use web based hosting solution. At core is Apache, world's most popular web server. Mac OS X server optimize performance, Apache provides extensible architecture, reliable and fast web hosting services.
Apple hosting services help big organizations to secure their data. Apple's great innovative tools make possible for an organization of any of the size to host websites and to deploy powerful applications affordable, easy and quick. Apple server takes complexity out of managing, configuring and hosting of websites.
An administrative interface makes very easy to get started with static website, providing advanced capabilities for the professional webmasters responsible for deployment of sophisticated services. Tools to service dynamic content, blog publishing, database integration, enterprise applications, CGI scripting and syndication which are built in, as OpenSSL to encrypt data transport.
Mac OS X server combines these web technologies with management tools for the superior ease of use. Apple Hosting websites always ready to host secure e-commerce websites, robust web services and transaction based intranet solutions.
Optimized Performance by Apache Web Server
Mac OS X Server web based technologies are open source Apache web server, it is mostly used HTTP server the Internet. Apple has optimized Apache to include front-end cache which improves performance of the static HTML images and pages. Once accessed, static web content stays in cache, and enables quick retrieval when it is requested. It means that most requested web pages are fast to retrieve and maximize efficiency of web server.
Features of Apple Hosing
High-performance Apache web server
Flexible security controls with realm-based username and password authentication
128-bit strong cryptography worldwide
Public key infrastructure (PKI) for X.509 certificate-based authentication
Apple-designed templates and themes Security and authentication
Content syndication using RSS, RSS2, and Atom
Open Directory integration for digest and single sign-on authentication
Blojsom-based server for web-based content publishing
ODBC and JDBC database connectivity Weblog services 
MySQL version 4 included: Apache Axis for SOAP and WSDL Web Services
Apache Tomcat for hosting JavaServer Pages (JSPs) and Java Servlets
JBoss application server for deploying Enterprise Java Beans (EJBs)
Support for the UNIX CGI 1.1 standard and scripting using Perl, Ruby, and Python Enterprise applications
In-line HTML scripting using server-side includes (SSIs) and PHP
Extensible Apache module architecture
WebDAV support for collaborative content publishing Dynamic content deployment
Encrypted data transport with support for SSL and TLS protocols
Support for virtual hosting, including multiple IP addresses and virtual domains
Apache 1.3 and 2.01 with HTTP 1.1 support
Technology Brief Mac OS X Server: Web Hosting
Automatic web hosting: Mac OS X Server web hosting services are being used throughout organization automatically. Mac OS X clients simply can save HTML content to Sites folder into their network home directory, and it is instantly available online.
Since content is hosted on server—rather than on the users' computers—there is no need to reconfigure the firewall settings or arranging the static IP addresses for network clients.
OpenSSL: OpenSSL is an open source cryptographic toolkit which is used for implementing Transport Layer Security (TLSv1) and Secure Sockets Layer (SSLv2 and SSLv3) protocols over TCP/IP networks. Using the OpenSSL, Mac OS X Server fully supports X.509 digital certificates for server and client authentication. This also provides a strong 128-bit encryption worldwide.