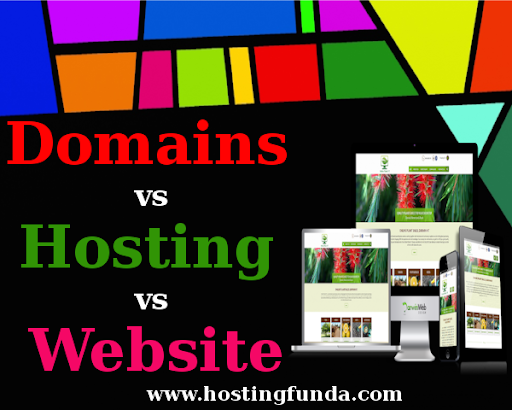 Difference between domains vs hosting vs website
There are three parts that makes up a website. That are
1.  The Domain Name
2.  The server or web hosting
3.  The site files themselves
THE DOMAIN NAME : The domain name is like an entry in your phone book. Comuters communicates by using  a number called IP addresses, to connect with each others. Domain names are created by rrules of DNS(Domain Name System). A name registered in the DNS is the domain name. Domain names are used in URL in order to identify a particular websites. In general a domain name represents an Internet Protocol resource like personal computer used to access the internet.
Domain names are organized in subdomains levels of the root domain, which is nameless. The first level of the domain name top level domain such as the important domains are: com, info, edu, org. Below this top level domains the 2nd level and 3rd level domains are typically open for reservation by end user.
THE SERVER OR WEB HOSTING: The web hosting or server portion is much like the space that you rent out to have your business in. This is merely the space itself. This does not includes furnishing like shelves for your products, as the web hosting account does not include a site for you to sell your products.
But in web hosting world it is very easy to furnish the space which is provided by your host. Without hosting services, you would not have place for files to reside. So your domain would then become like a disconnected phone number in the phone directory and your site files would have nowhere to stay.
THE SITE FILES THEMSELVES: The files of sites are what your visitors and customer actually see your products and services. The site files are the same as any other normal files like .mp3, .jpg files. Websites are also .php or .html files, that are PHP scripts or html pages. The web server knows how to read these files , which instruct it to do a series of computation. These computation are like figuring out what blog article it's supposed to send back to the viewer.