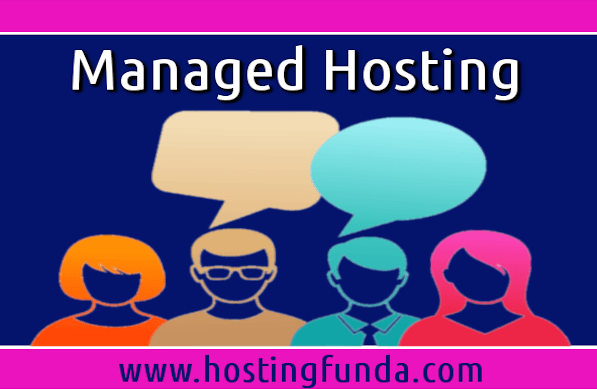 Managed Hosting is one of the web hosting service which lead each of the service provider to get delivered with some different versions of same service, so all come under heading of 'managed hosting'.
Managed Hosting is an extension of dedicated web hosting, where required hardware is owned by hosting provider and is leased to single client. Managed Hosting Service differs from all other forms of dedicated hosting, in fact, day to day maintenance and management of servers is being handled by web hosting hosting provider rather than by clients themselves.
An ambiguity in term managed hosting stems from different levels of management, although this fully managed hosting includes, but it is not limited to the below following points:
Server Monitoring:  It is a process of scanning servers in search of any of the irregularities or the potential failures, when done in timely fashion, all these problems can be easily rectified before they develop in major issues or in service disruption.
Security:  It includes updates in operating system, firewall, spam filtering and virus scanning in an addition to the standard physical data centres security measures. Security is very important on any of the computer system/network, but is especially important when it dealing with business or personal  critical data and information.
Full Back-up and Storage: Losing company data can be costly in sense of the word; this can cause  loss of customer trust, time and money. For all these above reasons, this is vital that all the critical or personal information is stored and backed up securely.
Managed Web Hosting Providers have physical and technical capabilities in a place to carry out back-up/storage process properly.
Server Configuration and Maintenance: Managed hosting service providers offer specialist staff with expertise to ensure that hosting solution is configured to meet customer's requirements effectively and to perform necessary server maintenance to keep platform running smoothly
Support: An attractive benefit of using managed hosting is that, if there is an issue, there is always a qualified support on the hand. In some cases, companies make telephone support which is available for 24/7/365, or however some support is also being offered via email.
Flexibility: Managed Hosting is a very  flexible solution – not one size which  fits in all service – and providers can do work with their customers to achieve solution which  tailored to suit budget and individual requirements of business.
Reduced cost of operation: Hardware and expertise which are required to manage web hosting in-house may be costly; with many of the businesses,  cost of hosting service outweighs the benefits. Managed hosting is more cost effective web based solution without having compromise on the suitability or control.
More effective use of resource: When using Managed Hosting service, provider takes care of all day-to-day maintenance and running of web servers and the infrastructure, it means that an in-house IT staff  focuses on other, more on important tasks.
Overview of Types of Managed Web Hosting:
Dedicated hosting offers businesses access to the customized web resources which are dedicatedly solely to the one user for one server. Because this type of web hosting is not shared, a dedicated web hosting is much robust as there are occur no other web masters on same server using same resources.
All types of dedicated web hosting are not same. For example, one dedicated web hosting is fully managed web hosting which offers webmasters a comprehensive web based hosting solution and that does not require user to be an expert in the web server administration because web host takes care of  administration on the web server.