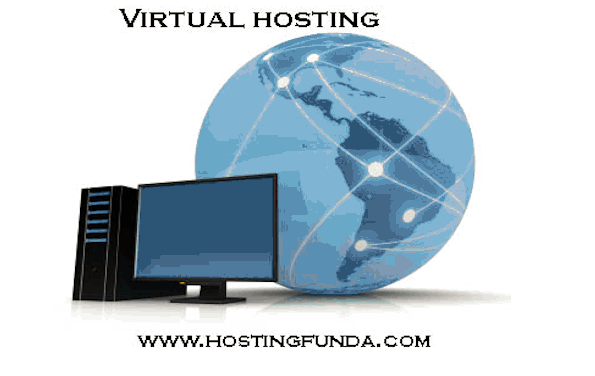 Term Virtual Host refers to practice of running more than a one website on single machine. Virtual host can be an IP based, meaning that you are having a different IP address for each website, this means that your multiple names are running on every IP address. The fact is that they are running on same physical web server which is not an apparent to end user.

Apache was first web server which supported IP based virtual web hosts right out of box. Versions 1.1 and later of Apache supports names based and IP based virtual hosts. Latter variant of virtual host is called non-IP and host based virtual hosts.
Below mentioned are some of the Virtual Hosts:
In-Depth Discussion of Virtual Host Matching
Dynamically Configured Mass Virtual Hosting
File Descriptor Limits (or, Too many log files)
Virtual Host examples for common setups
IP-based Virtual Hosts
Name-based Virtual Hosts
Virtual host is that Web service provider which includes Internet connection services and server functions. A virtual host is being used by individuals and companies which do not want to maintain and purchase their Internet connection and Web servers.
Virtual Host will deliver its customers with registration of domain name, directory services and file storage for files that Web page has been built from, website design and email services and creation services if customers want someone else to develop website.
There is a limitation of using virtual host that customer shares web services with other customers of virtual host if virtual host is running multiple websites off same server, then these websites will be completing Web server resources. Some of the virtual hosting providers allow customers to rent dedicated servers or offer colocation to serve only one customer's need.
Benefits and Features of Virtual Hosting
Operating System Licensing – The Virtual Hosting Service provides operating-system licenses for Windows Server and Redhat Linux
Systems Administration
Firewall Protection
Full Backup
Operation Monitoring : Data centres monitor server 24×7
Responsibilities of Virtual Hosting engineers:
Serve as a point of escalation for server administrators managing virtual guests
Perform medium-term capacity planning for the virtual infrastructure
Coordinate with vendors for licensing, maintenance and support requests
Manage permissions and security groups within the virtual infrastructure
Monitor and tune the physical server and storage environment as needed
Apply patches and upgrades as recommended for the virtual infrastructure
Provide assistance with integrating virtual guests into the Data Center network topology
Monitor resources and provide tuning and advisement for virtual-guest performance issues
Provide engineering assistance to ensure right-size and right-performing virtual guests
Data Security
Sensitive and Restricted data includes:
Credit Card Data
Student Records Protected by FERPA (The Federal Family Educational Rights and Privacy Act of 1974)
Electronic Protected Health Information (ePHI & HIPAA)
Personal Identity Information (PII)