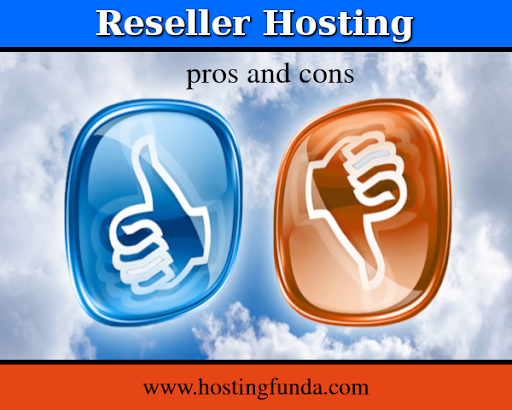 Reseller hosting: pros and cons
Reseller Hosting:  Pros and Cons.
Reseller Hosting is a type of web hosting in which the owner of the account can host websites with the help of hard drive and bandwidth that is allotted to it for the third party or user. The reseller usually purchases the hosting services and sells those services to another customer in order to make a profit.
Hard drive space and bandwidth are allocated to the reseller account. The reseller can take a dedicated server on rent from a hosting company and again sell them to users as shared services. In some cases reseller is given an authority to sell an amount of hard disk space or bandwidth.  
Some advantages of reseller hosting are:
No Maintenance: There is no maintenance issue in reseller hosting. The user needs not to worry about the technical specifications of the server which has been taken at rent. The technical support department is responsible for fixing all errors user doesn't need to worry about it.
Less Expense: The user can take the advantage of all features of the service without having to purchase the original server and invest cost. Most of the reseller plans are low priced as compared to dedicated solutions. This makes your business much more financial and less expensive.
More Control: The user can have more control on the processes of the website in reseller hosting. He can easily manage the contents of the websites. User can set its bandwidth limits and disk space boundaries.
Some disadvantages of reseller hosting are:
Cost: The reseller hosting is not suitable for those users who want to establish a small scale business without having more features and resources that would not be more beneficial to the user.
Responsibility:  This area holds concern for business that doesn't want to run a hosting company but it need to sell space to pay for their server. You will have to provide support for your new customers if you are selling hosting packages. Reseller plans doesn't include customer support for your clients but only for you.
In addition, apart from worrying about providing service for other customers, you will have the additional responsibilities of administering your own site. On a designation of reseller it becomes important that most hosting companies will expect you to be able to take care of your own business and they will not offer a level of customer service that you need.